Kennedy Kimber-Johnson - Shipman Organ Scholar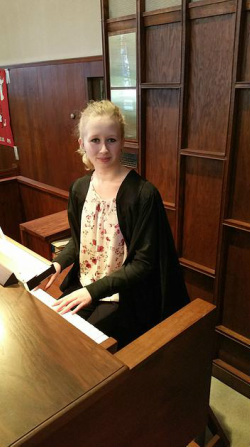 Kennedy Kimber-Johnson is the third person to take up the position of Shipman Organ Scholar at Metropolitan. This is her second year in the role. Before coming to Metropolitan, Kennedy spent two years as the organ scholar at St. Martin-in-the-Field where she studied with William Lupton. Kennedy has been a guest organist at a number of local churches including: St. Peter's Cathedral Basilica, Trinity Lutheran Church, Collegiate Chapel of St. John the Evangelist and Wesley-Knox United Church. Kennedy has been the recipient of the Kiwanis Music Festival's Paul Westermeyer Award for Pipe Organ, the Dr. Sherwood Fox Music Award, the Elsie Jeffries Organ Award, and the 'Moving in the Spirit' Organ Scholarship.
Kennedy is currently pursuing a Bachelor's of Music with Composition Honours at Western University and studies pipe organ with Paul Merritt. Kennedy has been invited to compose musical scores for two short animation film projects and continues to explore this as a growing area of interest. She is an active member of The Royal Canadian College of Organists and through the support of Metropolitan attended the RCCO annual conference in Montreal this past summer.

This year Metropolitan's handbell choir, Jubilate Bells, commissioned Kennedy to compose a piece for their ensemble which will be premiered this fall (October 2018). She is currently ringing bells with professional choir Bells Ablaze under the direction of Susan Carscadden-Mifsud. Kennedy has been providing support and leadership to Metropolitan's mCAMP arts program for the past three years and particularly enjoys sharing her love of handbell music with children in our community.




---