Psallam spiritu et mente
I will sing with the spirit and with the understanding also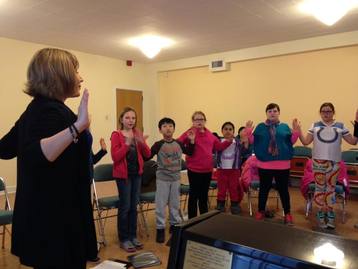 Ultimately, being a member of the Metropolitan United Church Choir School means being a highly trained and engaged singer! Members of MUCCS rehearse, perform and travel regularly. They sing some of the world's most exciting music, in some of its most beautiful settings and its in most meaningful contexts. Choristers participate by:
Rehearsing: The expectation is that all Choir School members will attend a minimum of two rehearsal weekly. Our flexible rehearsal schedule makes it possible to pick and choose the days that work for you each week:
Monday: 430-530
​ Tuesdays: 430-530
Thursdays: 545-715
Singing: The Choristers sing on the third Sunday of each month (September to May) for Metropolitan's 11 AM service.They also sing for scheduled services of choral evensong on Thursday evenings at 645. The highlight of the year for everyone is our annual Service of Nine Lessons and Carols on the Friday evening before Christmas each year.
Travel: Choristers travel locally to perform throughout the year and undertake a longer trip annually.