Travel with the Choir
Each year we travel to at least one destination to sing, make new friends and to have experiences of cultures and culture which is new to us! These experiences help us to grow and to develop, not just as musicians, but also as people!​
England 2018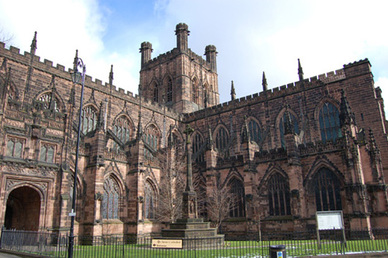 ​During the summer of 2018, the Choristers of The Metropolitan United Church Choir School will undertake a tour to the United Kingdom, spending two weeks singing at various venues, including a week in residence at Chester Cathedral. During the second week of the trip we will be singing at Bristol Cathedral, Blenheim Palace and at the great market church in Cirenciester!
​We will end our trip with three days in London for sightseeing.

---
Ottawa 2016

The Choristers of MUCCS undertook a very successful tour to Ottawa in March of 2016. They performed three times while in the city, as well as working with Jackie Hawley , Director of the Cantiamo Girls Choir. During our tour we were very humbled to sing at the Tomb of the Unknown Soldier. The Choristers also had guided tours of The Parliament Buildings, The National Gallery, The Canadian War Museum and The Canadian History Museum. In addition we attended a concert of symphonic music by Dvorak, Stravinsky and Copland at the National Arts Centre.
Montreal 2015 - The Choir's Spring Tour
The Choristers of MUCCS have returned from their four day, 2015 Tour, which took them this year to Montreal, Quebec. The choir sang as part of The Rhythms International Festival at Vanier College and also performed in The Place d' Armes and at St. James United Church. Other highlights were trips to the Maison Symphonique, St. Josephs' Oratory and The Civilization Museum!


Toronto Tour 2014


Our inaugural Choir Tour: May 2014


May 2014 marked the month of our inaugural Choir Tour, which took us to Canada's largest city, Toronto. Our time in Toronto included singing at Metropolitan United Church - the 'other Met' - working with Dr. Patricia Wright and singing with her fabulous choir! We also attended a wonderful concert of music by Tchaikovsky, performed by the Toronto Symphony at Roy Thomson Hall.