Thank you for visiting our website!

Thank you for visiting the Metropolitan United Church Choir School website. Here you will find everything that you need to know about our exciting program, which is open to all children between the ages of nine and eighteen. The Choir School exists to provide professional musical training without cost, to London area children and teens. Membership at Metropolitan United Church is not a requirement for participation, neither is membership in the United Church of Canada or in any other religious denomination.

​In August of 2018, the Choristers will be touring England for two weeks, during which they will spend a week in residency at Chester Cathedral, singing the daily services! They will also be singing at Bristol Cathedral!
​

Want to make a contribution to the 2018 England trip fund? Click below!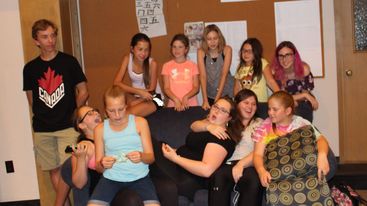 What People are saying about the Metropolitan United Church Choir School

'The chorister programme at The Metropolitan United Church is a vibrant and wonderful community of dedicated staff, musicians and educationalists who are determined to provide an enriching and fulfilling musical education to the children of London, Ontario, CA. Through its annual chorister festival and at services throughout the year children learn what it is to sing, learn and grow alongside each other in a caring environment, increasing their musical skills and knowledge to enable them not just to sing together in a resonant, healthy manner but to explore the riches of choral repertoire both past and present and learn how to be together in a team. It is a pleasure to have been involved with the chorister festival and to be part of a very special community.' - Katherine Dienes-Williams, FRCO (Organist and Master of the Choristers, Guildford Cathedral, Guildford, UK)

'I enjoyed working with the Met Choristers enormously over the weekend. They are really focussed and keen, and are learning all of the right sorts of skills. There's plenty of potential in the sound, and what Gregg has achieved with them already is impressive in such a short space of time. They were also incredibly welcoming and friendly! - Sarah MacDonald, FRCO (Director of Chapel Music, Selwyn College, Cambridge University and Director of the Ely Cathedral Girls Choir)

"What a pleasure it was to do a workshop with the choir today! It is so satisfying to work with a group that is instantly willing to try new things! I was impressed that with only 21 singers, there was such a full, confident sound! It is evident that all of these young artists love to sing and that each and every one is fully committed to doing their best to make and share beautiful music! Thank you for inviting me to work with you!" - Jackie Hawley (Conductor - Cantiamo Girls' Choir of Ottawa)

"Wonderful choristers! Bravo to Gregg and Metropolitan for having this vision!' - Bruce Neswick - FAGO, FRSCM (Director of Music, Trinity Cathedral, Portland, OR)

'It was my pleasure to come and work with such eager, keen and spirited singers at Metropolitan. I was amazed at the already high level of lyric diction habits and skill with intonation in an ensemble so young in experience! I hope to have the chance to work with these talented young artists again in future.' - Jennifer Moir - (Choral Conductor, The University of Western Ontario)
---